Isla Holbox General Information & Directions
Isla Holbox Things To Do
Isla Holbox Birds
Isla Holbox Whale Shark Tours
Isla Holbox Fishing Trips


House for Sale Come live in Paradise!


Home
Site Map

Hotels and Hostels



Isla Holbox Properties for Sale Information !
Isla Holbox Amigo's House
Amigo's House Isla Holbox is for sale. This home is located on Ave J.Aguilar (formerly Escobedo) between Calles Vulkay & San Pedro on the island of Holbox in the state of Quintana Roo in the country of Mexico.
Construction of Amigo's House began in fall of 2002 and terminated in spring of 2004. The history and details of the construction can be found on House History. As you enter the property from the road, you find on the right side is the kitchen-living room building and on the left side of the driveway area is the third bedroom originally planned to be the staff building.
To the far back right side of the property is the machine room where the hot water heater, water pump, washing machine, storage and supplies are stored. In the middle of the lot behind the staff quarters/third bedroom you will see the two bedroom tower.
Plans for the Complex
Three buildings of Amigo's House l-r:Bedroom Tower, Kitchen-Living room Building and Third bedroom- Staff housing 04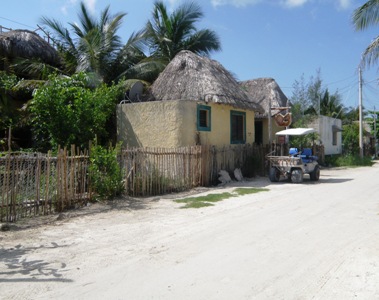 Taken from the front of Ave. Aguilar just east of the house, includes view of adjoining vacant lot. April 2012
Looking down at complex from tower stair case Spring 04. There is a concrete path leading from one building to another.
The first building completed was the staff housing or third bedroom. This consists of a bedroom area which has a palapa roof, and a bathroom with shower which has a concrete roof. There is a ceiling fan in this room. Currently a full size bed with a single trundle bed is used in this room.
Staff room sketch
Following this the kitchen-living room was constructed. This room has a kitchen area complete with refrig, stove, all cooking and eating utensils and table area.
Kitchen Living Room Building Spring 2004
April 2012 outside kitchen living room building. Now lush tropical trees and plants are present!
Artist sketch of Kitchen Living room
Finally the two bedroom tower building with a viewing area on the island was completed in April of 2004.

Each bedroom can sleep up to four people in four single beds or a king plus two singles.
Sketch of Tower Bedrooms
Two Bedroom Tower June 2008
For more interior views of the house, please visit Amigo's House Interior and scroll the entire page to see the interior of this Holbox house for sale!
Other views of the bedroom tower and the property at the Isla Holbox Amigo's House, which is for sale!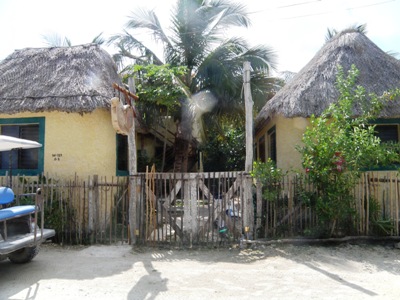 Entrance to Amigo's House Isla Holbox April 2012
View out to Ocean
Holbox Sunset
For further details email Camilo Caceres of Holbox Homes phone: 9842021707 camilo@holboxhomes.com or Jorge Meneses of Holbox Properties phone:9841414305 jorge@holboxproperties.mx.
Amigo's House Isla Holbox is no longer available for nightly or weekly tourist rental. Thank you for your understanding!
---