Isla Holbox General Information & Directions
Isla Holbox Things To Do
Isla Holbox Birds
Isla Holbox Whale Shark Tours
Isla Holbox Fishing Trips


House for Sale Come live in Paradise!


Home
Site Map
Hotels and Hostels



Isla Holbox Rental House Accommodation Alternative
Introducing Amigo's House Isla Holbox!
Isla Holbox's Amigo's House began in the summer of 2002 simply as a piece of land on a quiet street on Isla Holbox Mexico. This is the story of it's progression from a piece of land to the current house.
The land Ave.Mariano Escobedo between Andres Q.Roo and Leona Vicario
After Hurricane Isidoro which struck Isla Holbox in the fall of 2002, construction began. In February of 2003 the building that would house the kitchen and living room was completed.
Living Area
Soon afterward a room originally designed for staff was completed including a bathroom.
Bedroom
Bathroom
By May of 2003 the Living/Kitchen and staff room were complete. The adjoining lot was acquired and cleaned. Now plans needed to be changed to include the larger lot.
Looking at the constructed areas from the far side of the second lot May 2003
October 2003 the construction of the guest bedrooms has begun, and expected date of termination is January 2004.
Actual base of foundation Oct 2003
The end of October 2003 found the bedroom tower coming along well. The walls were done and the floor for the first level poured. Nice sunny weather helped move this part of the Amigo's House Isla Holbox project along.
Bedroom Tower November 25,2003 Making progress!!
Feb 14, 2004 Bedroom Tower
Amigo's House Left building Caretaker's room ( mentioned above), middle building is Bedroom Tower still under construction, right front building is living room-kitchen area, right back building is storage and engine room. Feb 14, 2004

.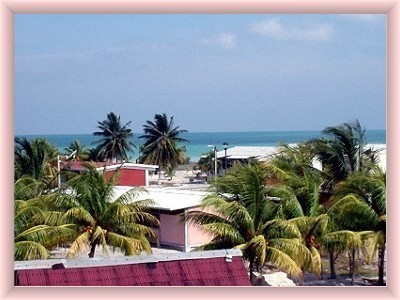 View out to sea from bedroom tower roof
Isla Holbox, and Amigo's House await your visit!! Come see us soon, Friend!!
---
03/19/17
All content, text, photos and layout are the creative design of Amigo's Properties and no part or whole of such can be copied or used with out prior authorization of Amigo's Properties. Doing so will violate appropriate laws and such violators will be prosecuted.01/01/01-09.